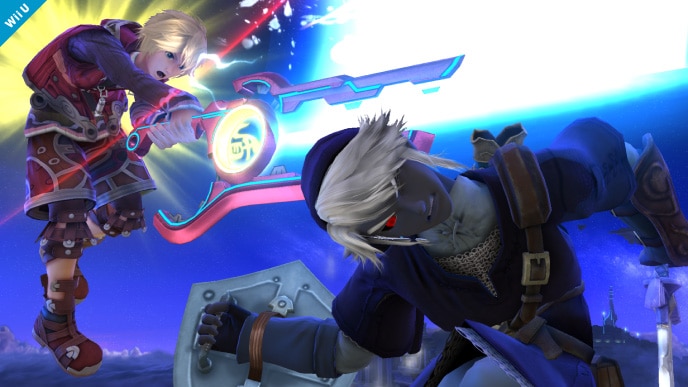 Shulk from Xenoblade, shown in the leaked video from a few days ago, has now been officially revealed.
Here is Shulk's reveal video.
He's a pretty unique character, wielding the monado, a sort of blade (that actually looks more like a keytar than a sword) which gives him several abilities to switch between, signaled by a written character that appears behind Shulk when activated and then on the monado itself. Each comes with a designated boosted stat and diminished stat, reminiscent of natures in Pokémon. This is the list of them all:
"[List of Monado Arts]
翔 (Jump): higher jumps, lower defense.
疾 (Speed): faster movement, weaker attacks.
盾(Shield): higher defense, slower movement.
斬(Buster): stronger attacks, weaker launch ability.
撃(Smash): Stronger launch ability, weaker attacks, lower defense against launching."
So, needless to say, this is going to be a very versatile character. The activation of these monado arts seems to be fairly quick, but it's hard to tell from the video and the specific activation time will make a big difference to his play. For instance, I could see someone using Buster to rack up damage and Smash to finish off a weakened opponent. But if it's quick enough, we might also see a change to Jump as a means of recovery or a change to Shield to eat an incoming attack.
As for less competitive elements of this character, this is a costume he gets (XD):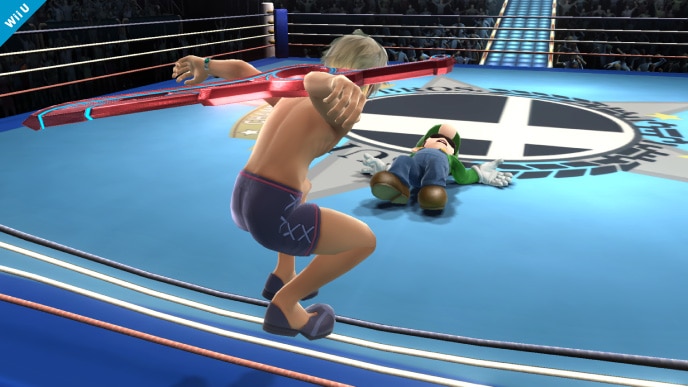 Posts

: 190


Join date

: 2014-07-04



his trailer is mad hype! even though we saw him comming.
this confirms that the leak roster is real as his  official render is the same that the leaker showed

He looks like a very unique character, very different from any other sword wielder. I cant wait to try him out!



Fun fact, we get a first look at Link's dark link costume from brawl. pretty cool


_________________
Admin




Posts

: 236


Join date

: 2014-07-03


Age

: 27


Location

: California



I don't care for his game series too much, but his Smash gameplay is intriguing.



Posts

: 153


Join date

: 2014-07-08


Age

: 34


Location

: St. Louis, MO



his games are awesome kaze! if you like RPGs i say go for it
_________________
Admin




Posts

: 236


Join date

: 2014-07-03


Age

: 27


Location

: California





Similar topics
---
Permissions in this forum:
You
cannot
reply to topics in this forum